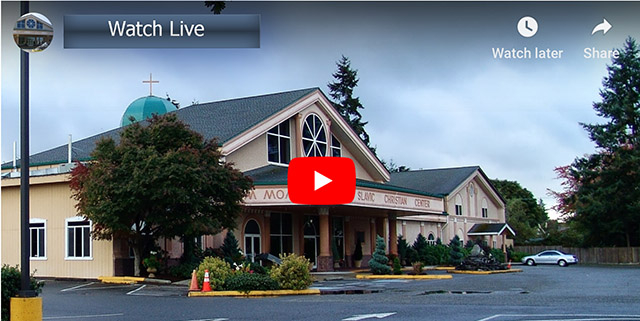 Live broadcast / Прямой эфир
Live services have been broadcasting on Sunday at 10:00 AM, Sunday 6:00 PM, Thursday 7:00 PM and Saturday 7:00 PM by Pacific Standard Time, USA.  / Собрания в эфире транслируются в воскресенье в 10 утра, воскресенье в 6 вечера, четверг в 7 вечера и в субботу в 7 вечера, по тихоокеанскому времени США. 
---
November 7 and 14, 2019 in Bible School Aleksandr Bashinskiy will teach the topic: "Worship in the New Testament". Classes will be held in south hall from 7 to 9 PM.
7 и 14 ноября в Библейской Школе Александр Башинский будет преподавать тему: "Поклонение в Новом Завете". Класс будет проходить в южном зале с 7 до 9 вечера.
Events
October 5, Saturday at 10:30 AM – Women's conference. Topic: Delight yourself in the Lord, and He will give you the desires of your heart. / Женская Конференция. Тема : Утешайся Господом и Он исполнит  желания сердца твоего.
October 19-20, Saturday-Sunday – Conference of EFCF dedicated to the 30th anniversary of immigration. Saturday morning at 10 AM and evening at 6 PM in our church. Sunday Evening at 6 PM in Christian Faith Center. / Конференция ХВЕ, посвященная 30-летию иммиграции. В субботу в 10:00 и в 18:00 в нашей церкви. В воскресенье в 18:00 в Christian Faith Center.
November 2, Saturday – Teenage conference of the State of Washington from 9:30 AM to 3:30 PM in Slavic Christian Center. / Подростковая конференция ХВЕ штата Вашингтон. Время: 9:30 AM до 3:30 PM. Место – Славянский Христианский Центр.
November 8, Friday – Tacoma Christian Academy Auction. / Аукцион для Христианской Академии Такомы.
November 28, Thursday – Thanksgiving celebration service at 10 AM. No Evening service at 7 PM and no Bible School service at 7 PM. / Праздничное благодарственное собрание в 10:00. В 19:00 общего собрания и собрания Библейской школы не будет.
---
Weekly Services / Служения на неделе
Monday/Понедельник
Morning prayer/Утренняя молитва 6:45 am
Bible Study/Разбор Слова 7:00 pm
Bible School / Библейская Школа 7:00 pm
Prayer/Ревнительная молитва 7:00 pm
Tuesday/Вторник
Youth service/Молодёжное служен. 7:30 pm
Brother's prayer/Молитва братьев 7:00 pm
Sister's service/Сестрин. служение 7:00 pm
Elder's service/Служ. престарелых 4:00 pm
Wednesday/Среда
Youth choir practice/Спевка мол. хора 7:00 pm
SBS worship practice/Спевка СБШ 7:00 pm
Elder's service/Служ. престарелых 7:00 pm
Young family serv./Служ. мол. семей 7:30 pm
Thursday / Четверг
Prayer in pastor's office / Молитва 7:00 am
Prayer in pastor's office / Молитва 12:00 pm
Prayer service/Молитвенное служение 7:00 pm
SBS Service/Служение Библейской Ш. 7:00 pm
Friday / Пятница
Main choir practice/Спевка общ. хора 7:00 pm
Prayer group/Молитвенная группа 7:00 pm
Wind orchestra practice/Дух. оркестр 7:00 pm
Saturday/Суббота
Prayer for Israel/Молитва за Израиль 5:00 pm
Evening service/Вечернее служение 7:00 pm
Junior school/Подростковая школа 7:00 pm
Sunday/Воскресенье
Morning service/Утреннее служение 10:00 am
Sunday school / Воскресная школа 10:00 am
Молдавское Служ. 4-е воскр. месяца 3:00 pm
Evening service / Вечернее служение 6:00 pm
Russian school / Школа русского языка 6:00 pm
Church address
Slavic Christian Center, 2014 S 15th St, Tacoma, WA 98405
Contact Numbers
Peter Sayenko, Senior Pastor
253-627-6295
Sergey Zadniprovskiy, Secretary
253-209-9215
Emails
Administrator – administrator@slaviccenter.com
Audio/Video – audiovideo@slaviccenter.com
Slavic Christian Radio – radio@slaviccenter.com